Digital Pressure Gauge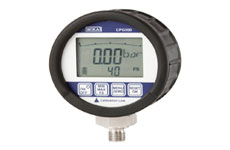 Digital Pressure Gauge Supplier, Distributor in Alwar, Digital Pressure Gauge Repair Services in Alwar, Digital Pressure Gauge Price, Cost in Alwar.
Applications of The Pressure Transmitter
♦ Machine Building
♦ Machine Tools
♦ Measurement and Drives Applicationnology
♦ Hydraulics and pneumatics
♦ Pumps and compressors

Special Features
♦ Measuring ranges from -1 ... +16 bar to 0 ... 1,000 bar
♦ Accuracy: 0.25 % (incl. calibration certificate)
♦ Robust case with protective rubber cap
♦ Simple operation using four buttons
♦ Complete service cases incl. pressure generation available

Description
General
The model CPG500 digital pressure gauge enables the measurement and display of pressure values in a single instrument.
The accuracy of digital measurement technology and the simplicity of an analogue gauge are combined in this instrument.

Accuracy
The CPG500 offers an accuracy of 0.25 % of span in eight pressure ranges. Readings can be displayed in one of five standard units.

Sampling rate
With a measuring rate of 100 measurements per second, the CPG500 features a very high measuring rate. With this, fast pressure peaks and drops in pressure can be detected. The bargraph display and drag pointer function integrated into the display, as well as retrievable MIN/MAX peak values, enable effective analysis of the measuring point.

Properties
In order to prolong the battery life, the CPG500 features an automatic switch-off function.
With the ZERO function, the display value can be zeroed with the simple press of a button.
An activatable filter function stabilises pressures which fluctuate strongly, and enables the pressure value to be read easily.

Complete test and service cases
For maintenance and service applications, various service case systems are available. Service cases with pneumatic or hydraulic pressure generation are available.

Certified accuracy
For each digital pressure gauge, the accuracy is certified by a factory calibration certificate which accompanies the instrument. On request, we can provide a DKD/DAkkS calibration certificate for this instrument.